Year founded
2013
Country of origin
The Netherlands
Category
Medical Device
Active markets
The Netherlands
Germany
United States
United Kingdom
About Untire
Untire helps fatigued cancer patients and survivors to regain more energy and improve quality of life. The app does this in many ways:
Explaining why you are and stay tired
How to relax and worry less
Dealing with anxiety and stress
Tips on how to sleep better
Tips on distributing your energy throughout the day
Increase physical activity
Measure your energy every week
What problems does Untire solve?
Cancer-related fatigue. An issue that often is under-diagnosed and under-treated.
Who does this solution help?
Fatigued cancer patients and survivors.
How does Untire improve healthcare?
The Untire app is based on many years of treatment experience with hundreds of (former) cancer patients suffering from fatigue. Countless hours have been spent developing the Untire app with a team of IT developers, researchers, (former) patients and specialists in the field of psycho-oncology. We use theories and techniques that have been scientifically proven effective, such as cognitive behavioural therapy, mindfulness-based cognitive therapy, positive psychology and exercise interventions. As a digital treatment (Digital Medicine), the Untire app appears to be an effective method of reducing fatigue in cancer. This was shown in a large RCT study by the University of Groningen among 800 (former) patients in England, the United States, Australia and Canada who all suffered from severe fatigue.
What makes Untire unique?
Untire
is suitable for all cancer patients: regardless of gender, age, type of cancer, treatment stage and prognosis.
is effective. It is validated via randomized control trials and more studies are planned.
follows the standards of care of the NCCN
has helped 40K patients around the world including patients from the Netherlands, the UK, the US, and Germany.
is a Medical device - class 1 MDD.
meets the highest standards in privacy (GDPR) and security (ISO 27001).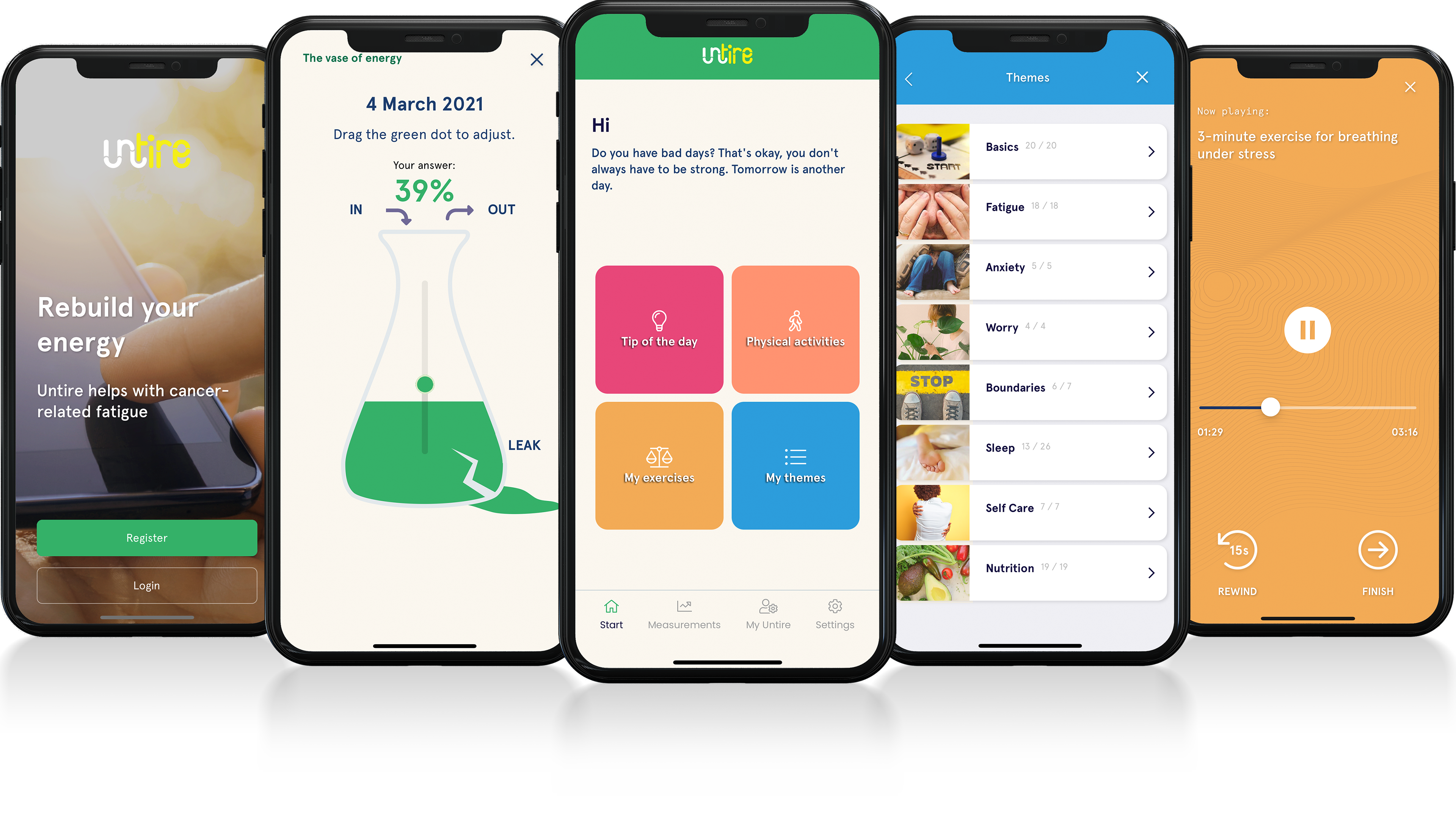 Request this integration
Want to know more about Infermedica or integrate with the app?
Become part of the Founda Health Ecosystem
Join us to enable collaboration and innovation in healthcare. More than 40 innovative healthcare applications have partnered up with Founda Health already.
View the the Founda Marketplace